I'll try to keep this quick since it was such a short flight. There aren't a lot of trip reports out there for EasyFly out there, so I thought it might be helpful to share my experience with them. Last week (May 25, 2017 to be exact) Vanessa and I were traveling between Bucaramanga, Colombia and Medellin, Colombia. You currently have two options for this route, Avianca to Medillin's main airport MDE or EasyFly to the city airport EOH. There wasn't much of a price difference, so we went to EOH for convenience. This also meant I'd get to try a new-to-me airline, EasyFly.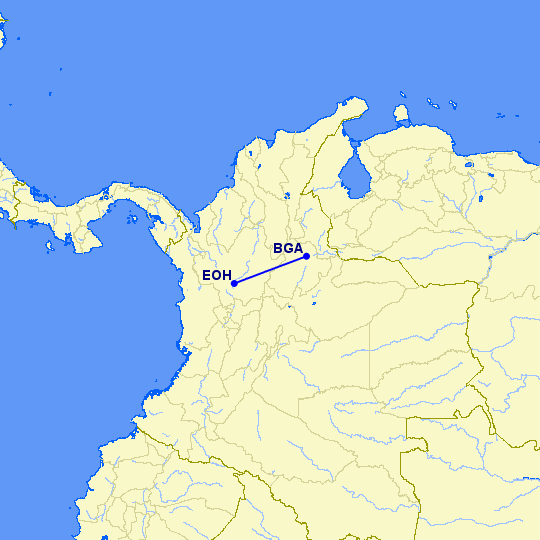 EasyFly only operate within Colombia, and typically on routes that don't have much competition. They operate a fleet of BAE Jetstream 41s and ATRs. Luckily our flight was operated by the more rare Jetstream 41.
Buying tickets on EasyFly can be a challenge. They use the online payment processor PayU and for whatever reason my cards were being declined. Vanessa tried one of her cards and it worked, but a week before our flight we noticed the EasyFly website still listed our tickets as unpaid. Their website is only in Spanish, which made things a little challenging. After writing them an email. I'm not sure what would have happened if we had not noticed prior to arriving at the airport.
Bucaramanga airport is located high up on a plateau at least 45 minutes from the actual city of Bucaramanga. We took Uber there (despite not being legal currently) and the driver asked one of us to sit in the front seat to avoid any problems with police. We found this to be fairly typical when taking Uber in Colombia, although some drivers didn't care.
The views from the airport were really beautiful and green. The area is so hilly, it made Bucaramanga look like a floating city in the distance. It's a tiny airport for the number of people around it, and even with the addition of a new check-in hall, it really only has about 5 gates and a few remote pads for props.
Our check-in was uneventful. The agents didn't speak English, but were friendly and professional. Security took less than 5 minutes and we found ourselves in the waiting area for all gates. The airport has good, free wifi while you wait. We decided to check out the Avianca Lounge while we waited since I have a Priority Pass membership.
The Avianca Lounge was disappointing. Staff were not very friendly and there was construction going on around the lounge for the new gates and check-in area. Construction was so loud that I think they should have considered closing the lounge, especially since it was so basic. There aren't even bathrooms within the lounge. We had a couple of mediocre coffees and headed back into the main waiting hall where it was quieter and there was at least a view of the mountains.
The flight was called (only in Spanish) 15 minutes prior to the scheduled departure time and we were walked down a hallway to the ramp, where we found our plane waiting. This was my first flight on a Jetstream and I was pretty excited about it.
EasyFly is a bit of a no frills airline, but they're known in Colombia for being operationally reliable and efficient. We found the boarding to be very quick and efficient. The flight attendant was accommodating when we asked if one of us could move to a single empty seat across the aisle. The interior was basic, but functional. My main complaint was that because there were no window shades on the plane, they had applied a window tint to the windows. While this might help with the blistering heat in parts of Colombia, it also made the windows near impossible to see out of, let alone take a picture. All the windows in the plane also seemed very scratched up.
A quick taxi out to the runway was followed by a quiet, smooth takeoff. It really caught me off guard how quiet the Jetstream is when compared with the Brasilia EMB-120s I used to fly with on Skywest in the USA. This plane was even a bit quieter than an ATR.
Not long after takeoff the flight attendant came around with a tray of Lulo juice. There wasn't a snack provided. It didn't matter much considering the flight was less than 200 miles.
Since I couldn't see much out the window I read the inflight magazine and after about 45 minutes we started descending into the Aburrá Valley where Medellin is located. The descent into EOH was interesting and a bit turbulent. The airport is literally in the middle of the city surrounded by mountains. You come over the mountains causing the plane to be a bit high above the narrow valley. We then descended while doing an oval shape around the valley and over the airport before doing a bit of a helix to drop in altitude right before final, then doing a straight in approach for landing.  Vanessa felt a little nauseous from it all. After flying in, it's clear why nothing larger than an EMB-145 operate out of the airport.
The taxi to the gate took no more than 5 minutes and before we knew it, we were off the plane. EOH is entirely at ground level and is a combination of indoor/outdoor, making use of the mild Medellin weather. There are no fences between the pathways to baggage claim and the rest of the airport, so the views of the ramp and runway were excellent. The architecture of the airport is really classic and has clearly been cared for over the years.
As we got to baggage claim, our checked bags arrived right as we did – a testament to the efficiency of EasyFly's operation. Our Uber to the hotel took only 10 minutes, the complete opposite of Bucaramanga.
EasyFly are a nice airline to fly with. If you don't speak Spanish, it could make things a bit complicated, especially if you have payment issues or if there is something operationally wrong. However, their staff are helpful and it is so convenient to fly into smaller airports in Colombia. I wouldn't hesitate to fly them again.